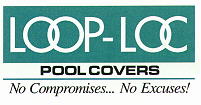 Special Weekly Coupon
To use above coupon Enter LOOP100 at check out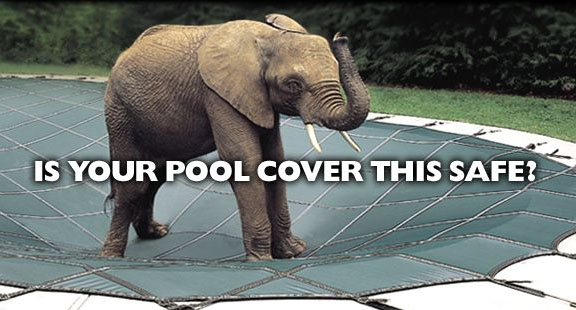 Does your pool cover look
like this ?

A solid swimming pool cover looks innocent enough when you put it on. But after the first rain, it turns into an ugly, messy, slimy monster that inhabits your backyard all winter long !

Swimming pool covers that are solid and drape into the pool allow rainwater to collect on top...along with dirt, leaves and debris. The result is a mess that requires frequent pumping, maintenance and a heavy-duty cleaning before you can open your pool each summer.

This mess can be hazardous, too. A child or pet wandering onto a regular swimming pool cover can become trapped as water rushes to the point of depression, and slippery algae makes escape difficult.

Wouldn't you rather have it look
like this ?

A LOOP-LOC Safety swimming pool cover is different ! It's made of a fine, strong mesh that allows rainwater to pass right through. Dirt and debris blow away, so the cover always stays dry and neat looking.

It's designed to hold to the exact shape of your pool with stainless steel spring and brass anchors that fit flush with your deck when the cover is not in use. Obviously, a dry, taut swimming pool cover that never needs pumping out is a lot safer for children and pets to be around.

And LOOP-LOC swimming pool covers are so durable and so well made that they come with a 12 Year Prorated Warranty ! That's why it's smart to insist on a LOOP-LOC cover for your pool this year!

END THE MESS IN YOUR BACKYARD !

Solid waterbag pool covers become a dangerous, slippery swamp after just a few rains. LOOP-LOC's fine mesh allows rain to drain through. The cover stays dry and beautiful in any weather!

No More Back-Breaking Maintenance.

Unlike solid waterbag covers, a LOOP-LOC requires no pumping, scrubbing or heavy maintenance. And it's much lighter in weight than typical solid vinyl covers, so putting it on and taking it off your pool is a snap!

A Perfectly Beautiful Fit Every Time.

LOOP-LOC's exclusive Computer Aided Design assures a perfect, custom fit for any shape or size pool. A LOOP-LOC always stays tight, clean and beautiful on your pool - unlike saggy, unsightly solid waterbag covers!

From a simple square, to this complex installation, LOOP-LOC can manufacture a custom cover with the perfect fit for any pool or spa. And a LOOP-LOC cover will blend beautifully into any backyard decor, with your choice of standard spring green or optional black, blue and gray designer colors.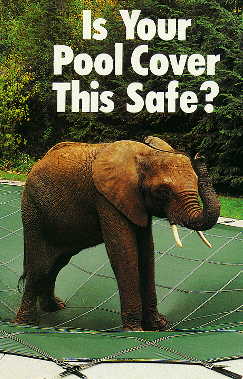 (Yes, that is an actual elephant on a real LOOP-LOC Pool Cover!)
High Quality Features
Mesh construction lets rain, melting snow and ice drain through.
Water doesn't collect on surface, so it's safer for children to be around.
Because surface stays dry...dirt, leaves and debris blow away.
Cover stays mess-free and beautiful to look at with no pumping and no maintenance.
Custom-designed to conform to the exact shape of your pool.
Stainless steel springs hold the cover taut.
Brass anchors disappear flush with the deck when the cover is removed.
Although the cover is lightweight, it has a break-strength of 600 lbs. per square inch!
The springs snap on the anchors in a few minutes to secure pool for a day, week, or months.
Cover can only be removed with a LOOP-LOC Installation tool so it's tamper-proof.
Cuts down time needed to open your pool. No scrubbing or powdering required.
All components are totally non-corrosive.
Every LOOP-LOC Cover comes with a 12 Year Warranty.
Exclusive SAFEDGE feature is a child-safety intrusion barrier that meets raised walls, etc.
GAP GUARD closes gaps caused by varying levels or decks.
LOOP-LOC Covers blend into your landscape setting and avoid unsightly winter pool messes.
End the problems of filling and replacing old-style water tubes. Never buy another water tube!
Stop buying pool covers every 2 or 3 years!
Super Strong Mesh Construction
Now LOOP-LOC's legendary ultra-strong mesh is even better! It's made with a new denser weave that blocks virtually all sunlight but still lets rain and melting snow easily drain through. It's the perfect choice for customers who want less light and debris in their pools, but still want the one of a kind protection of the only pool cover proven safe and strong enough to support an elephant!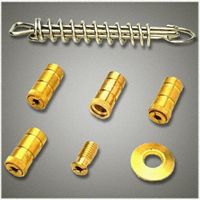 Solid Brass Anchors
Unique brass anchoring system make it a breeze to take the cover on and off.
Once you remove the cover, the anchors screw down flush with your deck.
Stainless Steel Springs
Stainless steel springs securely hold cover taut throughout the winter.
The springs hook onto the anchors in just a few minutes, making your pool opening a pleasure rather than a problem !
Choice of 4 Designer Colors
Standard green, optional black, blue or gray cover colors compliment your backyard's landscaping design while providing safe, secure protection for your pool through the rough winter months !
Call for a custom price!
Features of this cover
The polyester bonded thread used in LOOP-LOC covers costs almost 10 times more than that used by some of our competitors.
Double perimeter webbing and double-thick straps give our covers an incredibly high break strength.
We use extremely high-strength, non-corrosive 302 grade stainless steel springs for superior weight-bearing capacity.
We sew the webbing to the cover using contrasting white thread, instead of black, to ensure that not a single stitch is missed.
We use 87% black yarn in our fabric for superior UV stability.
Chafe strips are manufactured with exclusively virgin material - not "regrind," which tends to stain decking.
Non-corrosive aluminum tips are double-notched for stability.
The large X-tacking on LOOP-LOC straps is sewn manually for precise placement and maximum strength.
Loop-Loc Pool Covers are made 2' larger than the pool size to allow for a 1' overlap all the way around the pool.
When choosing a cover, Select the cover that is the same size as your pool. It will arrive 2 feet larger. (IE: 16 x 32 cover will actually be 18 x 34)

Important Stock Size Information:

For pools NO LARGER THAN 20 X 50, LOOP-LOCs Stock Rectangle covers will fit your pool if...
The pool length and/or width is up to 3 smaller than listed, and a minimum of 36 of deck is available.
The pool length and/or width is up to 3 larger than listed, and a minimum of 30 of deck is available,
And the coping is 10 wide or less.
Other Important Information:
The standard size covers listed below are green and come with concrete/brick deck hardware.
To order your LOOP-LOC in another color, if you need wood deck hardware or if you need a custom size, please call us for more information.
Prices include FREE shipping to addresses in the contiguous USA. Shipping to any other area will be extra. Call for price.
Hardware - Necessary quantities of hardware are represented in all prices.
Returns - Unopened Stock covers may be returned within 30 days, but may incur a restocking charge
If you need a size not listed above, please give us a call at 1-800-876-7647

Buy with confidence. Poolandspa.com is one of the oldest & largest sellers of Loop Loc Pool Covers in the world, having sold thousands of covers over the years. We are a Fully Authorized Loop Loc Dealer & Service Center for all Loop Loc products. We have been selling Loop Loc Covers since 1984, and selling them on the web since 1994.
Special Weekly Coupon
To use above coupon Enter LOOP100 at check out