HURRICANE "PREMIUM QUALITY" LOW PROFILE SOLAR REEL
Non-corroding aluminum reel fits under most diving boards.
Engineered for smaller hotel and motel pools, this reel is designed for heavy use. Its powder-coated heavy gauge aluminum frame is super strong, lightweight, and will never rust or corrode. The large stainless steel crank with handle at one end makes turning the reel easy. Precision sealed bearings allow a single person to effortlessly glide the solar blanket off your pool.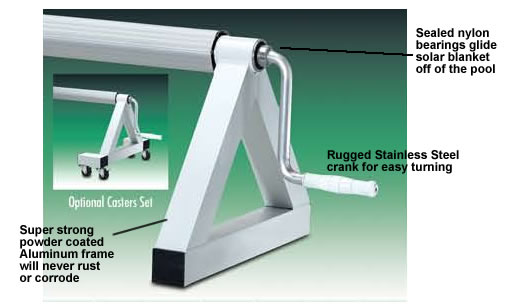 Our premium reel is built with a heavy-duty tube* that will not sag or flex. It will support solar blankets up to 24-ft. wide by 50-ft. long. Standing only 12 high, this low profile reel can fit under most diving boards for easy storage when not in use. Includes all straps and necessary hardware. Base and frame are aluminum. Optional locking casters can be added for easy portability. 1-Year warranty. Assembly required.
*16' wide reel comes with a 3" tube; 17'-20' & 20'-24' come with a 4" tube. (Customers with 20' wide pools that have a length 40' or longer can opt for the 20'-24' reel which has a bigger tube to better handle the weight of the solar blanket.)